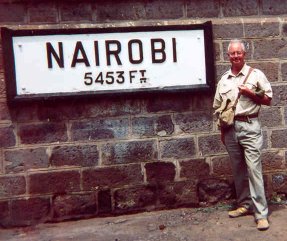 Still showing altitude in feet, the traditional East African Railways station nameboards have survived at Nairobi. Many have had the altitude metricated - to several decimal places.
Current KR passenger trains are the nightly ones to and from Mombasa; the three times a week overnight to Kisumu, with 3 coaches going on to Butere; and more "commuter" trains around Nairobi, now going as far as Limuru, Thika, and the airport siding at Embakasi. But for a daylight ride there is a Saturday train from Nairobi to Nanyuki, coming back on Sunday.

7204 pulled 3 of the Swedish built third class coaches and a brake van, leaving at 8am.
Vast local market along the track at Karatina. Around Thika all the old sisal plantations have been replaced with pineapples and the del Monte cannery beyond Thika has dedicated sidings and uses containers. Thika still has a small shunting engine. At Maragua hordes of mostly women and children attend the station selling bananas, mealies, nuts, sodas, etc for lunch. On the station nameboards at Muranga you can still make out the raised but painted over earlier name of Fort Hall - PHOTO Iain Mulligan
7204 with its rake of Swedish coaches and brake van at Naro Moru before going on to Nanyuki where it arrived at 1745. The train left Nanyuki for the return working at 8am on the Sunday. The routine was similar stopping frequently for groups of people to get on or off. Going back down the 4% grade the smell of burning brakes was very strong, and a CXR stop at Sagana confirmed the brakes were indeed red hot. On schedule back at Nairobi at 1730 - PHOTO Iain Mulligan
Kids on the Equator with an obscured Mount Kenya forming the backdrop. Half an hour later, Mount Kenya was completely clear - PHOTO Iain Mulligan

The fares were carefully calculated on a per km rate, Nairobi to Nanyuki cost shs 160 about £1.35 (GBP).

All the telegraph equipment and Tyers token machines are gone. The poles have no wires. Line clear is a paper system and mobile phones, but with never more than one train a day the whole 130 mile line could be treated as one long siding.