Kenya and Uganda Railways
Jinja Bridge

The first railway in Uganda ran from Jinja to Namasagali on the Victoria Nile where a steamer service ran on to Masindi Port. From there passengers travelled by road through Masindi to Butiaba on Lake Albert from thence they could travel on by steamer to the then Belgian Congo or north to Juba in the Sudan.

Train passengers from Kenya reached Uganda by steamer from the railhead at Kisumu and across Lake Victoria to Entebbe or Port Bell. In the mid 1920s the main line in Kenya was extended from Nakuru through Eldoret, and Tororo to Mbulamuti where it met up with the original Jinja to Namasagali line. The new line to Kampala then crossed the Nile at Jinja by a bridge carrying both the railway and a roadway underneath.

Ramsay Nicholson with the assistance of his younger brother Pearce Nicholson was responsible for supervising the construction of the bridge in 1926 and the following historic photographs were copied from the family photograph album in 2010 and kindly supplied by Gwen Smart - nee Nicholson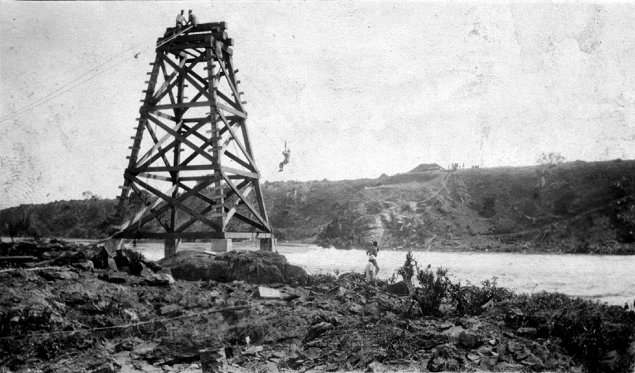 Establishing the cableway . . .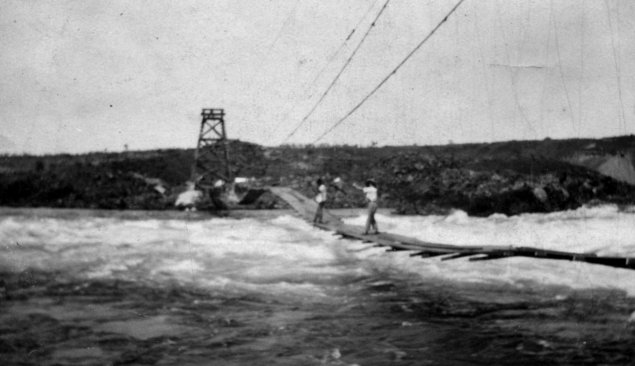 . . . followed by a precarious walkway.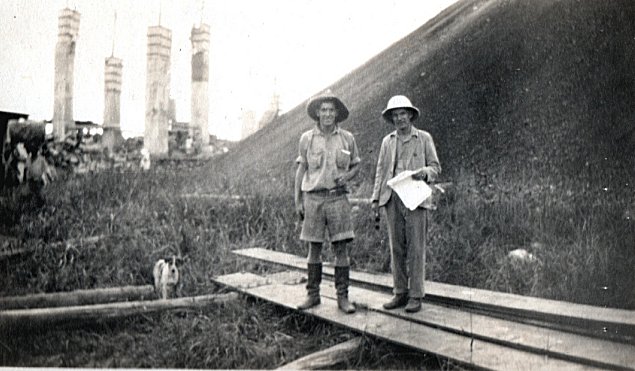 Pearce Nicholson accompanied by his dog and colleague with the bridgeworks in the background.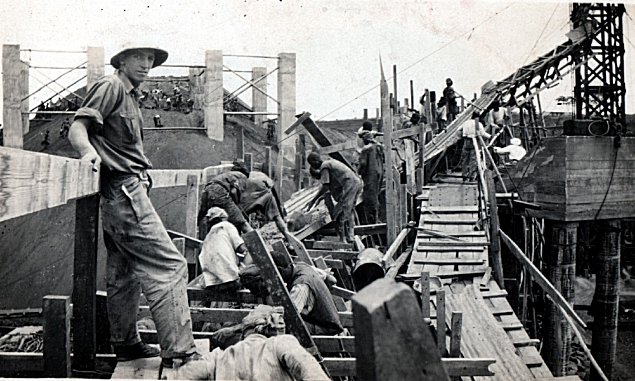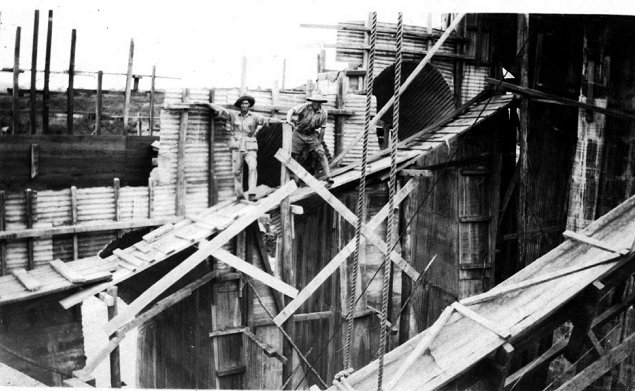 Pearce Nicholson on the bridge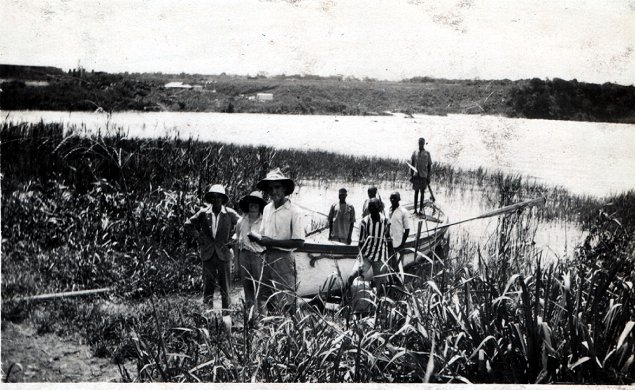 The lifeboat - the cableway snapped at least on one occasion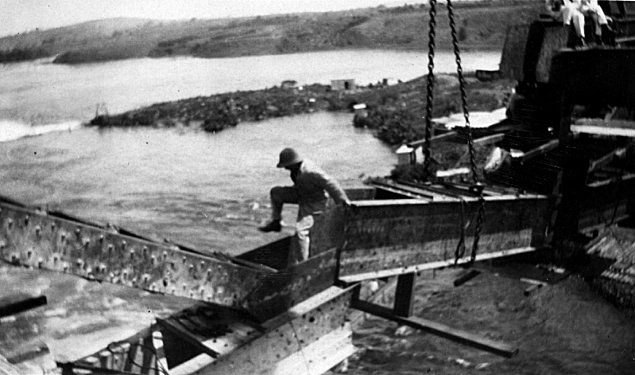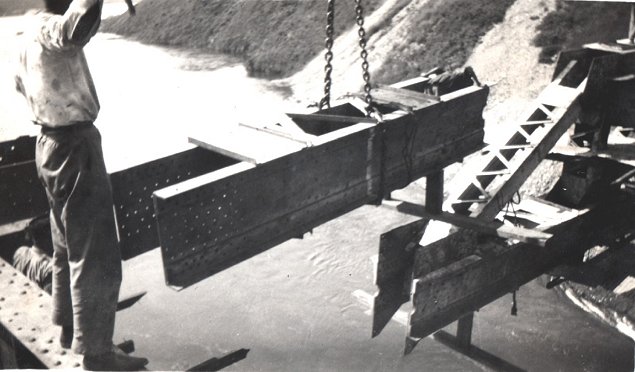 Apparently placing one of the final links in place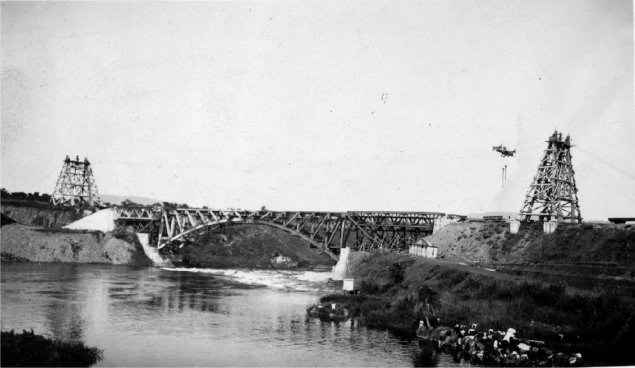 The rail deck of the bridge taking shape, the roadway has yet to be constructed below the arch.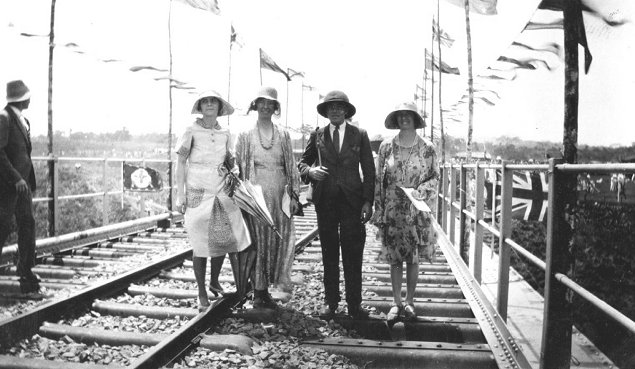 The Official Opening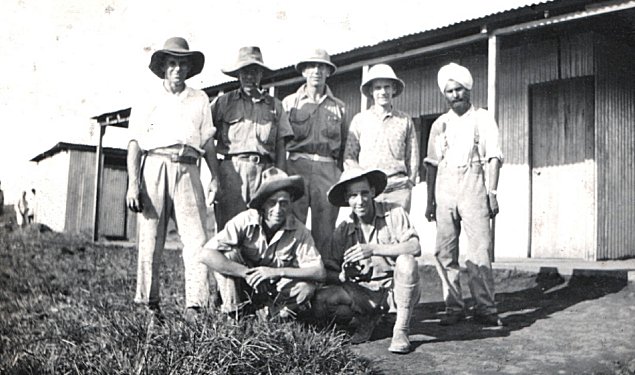 Ramsay and PearceNicholson (kneeling) with Senior Staff
Jinja Bridge in the late 1950s by which time the roadway had been removed. After the construction of Owen Falls Dam a mile or so downstream a roadway was constructed on top of the dam. PHOTO EAR&H