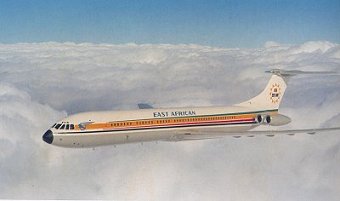 Vickers Super VC10 5X-UVA in flight. The Super VC10 was introduced on 13 October 1966. However, East African Airways came to an end on 28 January 1977 when Dutch pilot Captain Willi Kerstens annnounced: "Ladies and Gentlemen, you are on the last flight of East African Airways as the company has gone bankrupt". He was about to land the last VC10 service at Embakasi having flown it from Frankfurt. - PHOTOs British Aircraft Corporation.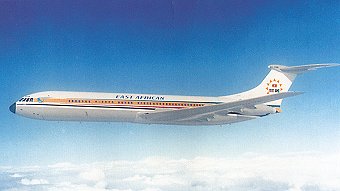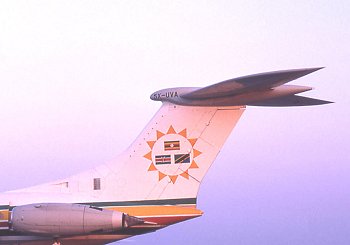 A feature of the later East African Airways livery was the three national flags on the fin - Uganda, Kenya and Tanzania. 5X-UVA was the ill-fated Ugandan registered Super VC10 written off in the tragic accident at Addis Ababa on 18 April 1972. In an accident not unlike the one which was to befall Air France's Concorde, the VC10 hit debris left on the runway. The main cabin viewed over the seat backs - PHOTOs Ron Bullock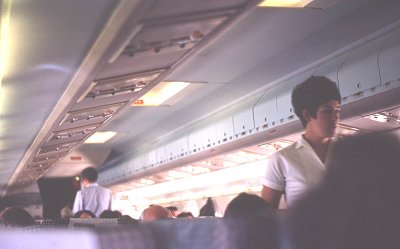 Finally, the last of the beautiful aircraft which had been the pride of East African Airways made its early morning departure form Nairobi. Captain Ricketts lifted 5H-MOG off at 0630 GMT [0830 local] on 3rd August 1977, and, for the last time, set course, high above the Great Rift Valley of Kenya, for England and Filton Airport near Bristol.
- from the book East African, An Airline Story by Peter J Davis, describing the return to BAC of the last East African Super VC-10.
Ron Bullock's photographs of Ol Donyo Lengai (left) and Mawenzi (right) show what Captain Ricketts was, for the last time, leaving behind.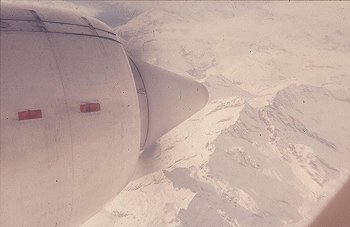 Two photographs of the Alps taken from a BOAC Britannia G-ANBL on the last leg of Flight BA 162 between Rome and London on 4 December 1960 - PHOTOs Malcolm McCrow. Prior to the introduction of the Comet 4s, East African Airways operated Britannia 102s leased from BOAC.